One of the common threats of injury in the otherwise beautiful game of basketball can occur to the mouth (most specifically the teeth and tongue).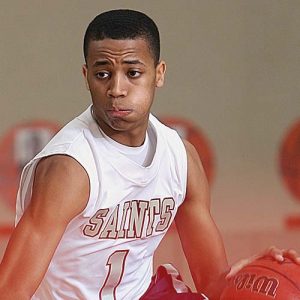 While rigorous practice and conditioning is the number one preventive measure against injury in basketball, using adequate protective gear is a very close second.
And when it comes to oral injuries, nothing beats proper protection.
In the often high-paced game one errant, unintentional elbow (or an awkward fall) can ruin the nicest smile. This is the primary reason that it's important for you to wear the best basketball mouthguard you can find for your mouth and style of play.
Basketball Mouthguards Comparison Chart
As is the case with most basketball equipment it can be quite tedious and frustrating on casual and competitive basketball players alike to decide which mouthpiece gives you best value for your needs.
In this product guide we give you the information you need to make an educated buying decision. This guide will help you find a sturdy and comfortable mouthpiece to wear so that you can play hard and enjoy your games.
Safety, a.k.a. injury prevention is the number one reason to wear a mouthguard. Aside from damage prevention, the style, comfort and breathability of a basketball mouthguard are always going to be important factors for you.
10 Best Basketball Mouthguards
1. SISU Aero NextGen
The Aero is designed to fit basketball players age 11 and up. One of its key features is that it's designed to accommodate players with orthodontic issues and is backed by a $35,000, one year limited dental protection warranty.
This mouthguard features a widened bite pad, rounded edges for comfort and easy mold-ability to help you get a perfect fit. All SISU guards can be quickly and comfortably molded to your mouth size and shape right at home with a little hot water.
At only half of the size of competitors' products (1.6mm thick), when you wear the thinly constructed SISU Aero NextGen you'll be able to communicate to teammates and coaches, as well as breathe and hydrate seamlessly without sacrificing your safety or convenience.
Pros
$35,000 One Year Warranty (Ages 11 & Up)

Best thin mouthguard for basketball

Comes in various colors

Safe for people with braces
Cons
Takes a while to mold comfortably

Hard plastic can cut gums
2. Redline Custom Fit Mouthguards
Redline Sportswear mouthguards are designed for adults and youth. In fact they are one of the best youth basketball mouthguards available. They also come in a variety of attractive colors. Redline Sportswear mouthguards are chew resistant and designed to form tightly to your teeth to prevent deformity.
This basketball mouthguard uses advanced material in it's design and construction. The dual layer design lets you talk, breath, and drink without missing a step on the basketball court.
This model is supported by a soft gel lining that easily molds to the teeth and gums to provide a superior custom fit that is unmatched by competitors.
Pros
Versatile Design
100% FDA approved materials: BPA, Latex, and PVC free.
Comes with a 100% satisfaction guaranteed policy
Cons
Better suited for adults than children
3. Shock Doctor GelMax Flavored
The Shock Doctor Flavored Mouthguards are an advanced combination of performance, protection and Flavor Fusion technology for basketball players of all levels.
The team at Shock Doctor took its bestselling GelMax mouthguard, renowned for its fit and protection, and added flavors that taste great with no compromise in performance. Each flavored mouthguard is sugar free, calorie free, and does not promote tooth decay. Kids who where mouthguards for the first time will especially love the flavored experience. All flavors actually "taste" pretty good, with Blueraspberry probably being the best.
All shock Doctor GelMax Mouthguards have the convertible ability to be strapped or unstrapped.
Pros
Flavored (Designed to last an entire season)
Shock-proof
Breathing channels to prevent airway obstructions
Gel-Fit liner for added comfort
Can be used strapped if you want to crossover to football use
Cons
A bit on the bulky side
Can run small, so use youth size only for children under 10 or so
4. Teeth Armor Professional Sport
If you're looking for a good shock-absorbent basketball mouthguard the Teeth Armor Professional Sport mouthguards is a great all around choice. With their custom fit design they're are designed for casual and competitive basketball players alike.
This Teeth armor line sports a dentist like fit, chew resistance, and supports the ability to talk and breathe easily while wearing it.
These mouthguards are clear in appearance and provide comprehensive teeth protection.Teeth Armor Guards are custom fit to any mouth size. The material is both BPA and Latex free. No color additives are used.
Pros
Comes in 2-Pack
Custom fits to any mouth size
Malleable moldable material
Thick cushioning for absorbing shock
BPA and Latex free highest quality material
Comes with a vented carrying case.
Cons
Confusing instructions cause some users to boil two included pieces at once (only heat one at a time, or they could bond together during the warming process)
High side design may not be best for mouths with smaller teeth
5. ProDefenda Mouthguard
The ProDefenda is a high-quality mouthguard you can trust that looks good and fits well, and most importantly gives you weapons-grade protection in the paint where errant elbows fly.
This mouthguard is shipped with simple instructions so you don't have to keep re-moulding and re-fitting the mouthguard to get the comfortable fit you need. This mouth guard has its own slip-resistant padding that sits between the teeth for extra grip.
It is also constructed so that you don't bite through the gum shield. ProDefenda is an excellent choice for all of you basketball players who are serious about safety and performance.
Pros
Absorbs shock very well
Thick multi-layered frame
Cons
Only available in Black or White
Unsavory aftertaste can take some getting used to
6. ProDental Sports Mouthguard
The ProDental Sports Mouth Guard set comes in packs of two. You'll receive maximum protection in your basketball games, whether posting up down low or running the floor on the outside.
What separates the ProDental Sports Mouth Guards from the competition is that they are easily trimmed to fit any mouth size.
ProDental Guards are also made to be custom molded to your teeth to ensure a precise fit. Pro-Dental will even send you a free replacement if you mismold your mouthguard.
Pros
Made so you can breathe and speak naturally
Can fit various jaw structures (Ages 12 & up)
30-day "better than money-back" guarantee
Cons
Clear ONLY (No colorways)
Must be careful during molding process as two sides can stick together
7. Shock Doctor (Adult) Ultra
The ProDental Sports Mouth Guard set comes in packs of two. You'll receive max
The Shock Doctor Ultra has a fast fit fitting system for easy, no-boil custom fitting. The Ultra has advanced protection in a minimalist design. This mouthguard protects teeth and gums from injury, without diminishing breathing and speaking ability.
This fit system allows any athlete to have the perfect custom fit for secure and comfortable protection whether being used for competitive organized basketball or pick-up games in the park.
Pros
Made for ease of speaking and breathing during high intensity basketball gameplay
Gel-fit liner custom molds to teeth for a tight, comfortable fit that helps keep mouthguard in place
Uniquely designed shape intended to comfortably fit the natural dimensions of each tooth
"Gel-window" provides an added protection for lower and upper molars
New no-boil fitting allows for low-temperature highly customized fit
Cons
Only available in White
Has potential durability issues under regular stress
8. AIWYING Teeth Armor
AIWYING Teeth Armor guards are designed for basketball players of all levels.
The Teeth Armor line provides a high quality fit, is chew resistance, and lets you talk and breathe easily for an optimal playing experience.
These mouth guards are clear in appearance and provide maximum teeth protection. In addition to being clear and cool temperature mouthpieces the AIWYING has a thick cushioning base.
This design allows players to absorb shock during tough contact plays. You can expect to have premium assurance while running the floor and diving for loose balls.
Pros
Great value (4 mouthpieces included)
Orthodontic quality fit, chew resistant, and allows you to talk and breathe easily
No colors or dyes used
Shock absorbent
Custom fit to any mouth size
Cons
Only available in clear molding
No instructions included in box
9. Shock Doctor Double Braces
Shock Doctor Double Braces are a great choice for basketball mouth protection for people with braces on both the top and bottom teeth rows. This mouthguard is designed specially so that it immediately conforms to fit both upper and lower brace brackets for instant comfort and prevention from lacerations.
This version of the Shock Doctor is made with medical-grade silicone, and is also adaptable to changes in mouth structure as your teeth adjust throughout the lifespan of your braces use.
The center of the mouthguard contains passages that allow for an increase in airflow, which is especially helpful if you're wearing braces.helps athletes with braces.
Pros
Protects both upper and lower teeth
Specifically designed for instant comfort and prevention from cuts and abrasions from contact.
Made with conforming silicone for instant comfort
Made to adapt to changes in mouth structure as teeth are adjusted
Engineered to allow for an increase in airflow
Does not need to be boiled
Cons
Doesn't come with a case
May require trimming if uncomfortable at first
10. Impact Custom Pro
This is the best way to go if you want the ultimate in custom mouthguard fitting. You simply can't get a more perfect fit with how this mouthguard is constructed exclusively for your mouth and teeth. The result? It's a mouthguard you or your child won't ever mind wearing..
Here's how Impact Custom Pro mouthpieces are molded to expert perfection:
Once orders are placed Impact will ship your Super Simple Fit Kit the next business day. Once you have the kit, you'll make an impression of your teeth into the mouth guard and you'll then mail (postage free) your impression back to Impact using the postage paid label provided. When Impact receives Upon receipt of your impression, one of their  own professionals will produce your personal mouthguard and send back your custom fit product.
Pros
Fast and easy to use custom impression kit
Includes paid postage to dental lab.
100% perfect fit guaranteed
End product is BPA free, and is made in the U.S.
Works if you have a missing tooth or if one sticks out higher
Cons
Multiple steps to molding process
Initial molding must be done in timely fashion and can't be restarted.
As technology improves, various styles of mouthguards are continually being developed to cater to whatever your needs might be. Practicality and ease of use are the general rule-of-thumb in measuring product quality and overall value when deciding which product is right fit for you.
There are surprisingly multiple factors that you as a player (or parent of one), will want to consider when shopping for the best basketball mouthguard.
Consider These Factors When Choosing the Best Basketball Mouthguard
The very best basketball mouthguards will allow you to continue breathing seamlessly and communicate to teammates and coaches as clearly as naturally possible.
Physical interior players will need more impact-resistant, shock-absorbant mouthpiece that will support your carotid artery during those inevitable plays where you unexpectedly get hit in the jaw jostling for a rebound or running into an unexpected screen.
Finesse players will likely want to have a mouthpiece that will keep you safe and breathing as close to normally as possible. You should seek a mouthguard that won't obstruct your airway and will also allow you to maintain your ability to communicate during in-game situations. You don't want to have to adjust or risk dropping the mouthpiece every time you open your mouth.
Rubber "Boil-bite-and-mold" mouthpieces are the most commonly distributed of the different designs. They are cheap. While they are technically "customized" they can become uncomfortable over time.
If you have the means to spend on premium comfort you may want to invest in a gel-based mouthguard. They tend to be thinner and fit snug enough for you to not have to worry about it falling out of your mouth in the heat of competition.
You will also have choices to make regarding custom factors such as mouthpiece flavoring and design and color choices.
Players with dental conditions (like corrective braces or missing teeth) may be best suited to acquire a custom dental mouth guard with some form of medical damage insurance.
Common FAQs
Q: Do I have to boil my mouthguard to mold it?
A: Rubber mouth guards usually need to be heated to mold around the teeth properly. Plastic or gel based guards often do not.
Q: How should my mouthguard fit?
A: Whether you're using a one-row or whole mouth guard you should be able to bite down into the mold of your mouth guard and while all teeth remain stationary.
Q: Should I feel any pain or discomfort while using my mouthguard?
A: No. The mouth guard might be too big or the mold may not have been fitted correctly. Discomfort is always a sign to reevaluate your options.
Q: Is my mouthguard BPA free?
A: BPA is not actually used as a primary ingredient in any modern dental materials. Yet because of the diversity of the different types of materials used by different companies the composition of products always vary. Some sellers will let it be known that they do not use this chemical in their advertisements. The safest bet would be to check with manufacturers whenever there is any doubt.
Q: Should my breathing be affected by my mouthguard?
A: Even the most comfortable mouth guards can cause some adjustments that might alter your breathing patterns. Athletes are often encouraged to inhale through the nostrils and exhale through the mouth. The better the mouthpieces fit the less obstruction should be had. Considering that each athlete has his or her own unique jaw structure and tooth alignment each mouth guard is designed to provide uniformed versatility rather than personalized comfort. There is no "correct or incorrect" choice besides trying and experimenting with which mouthguard design is the best fit for you.
Q: Which part of the mouth does my mouthguard protect?
A:This depends on the type of guard you are using. Mouthguards are designed to be molded onto the top, bottom or otherwise both rows of teeth. Ideally the mouthguards regardless of where they are molded and adjusted to fit will provide levels of protection for both. This also depends on the type of guard being used. Hard plastic guards tend to provide strong protection for the teeth but leave gums and the fleshy area of the mouth vulnerable to cuts and lacerations. Rubber and gel based molds also provide good protection for the teeth and have less of a cumbersome feeling during collisions in the heat of gameplay.